Theater play, Sukotan!, and panel session in January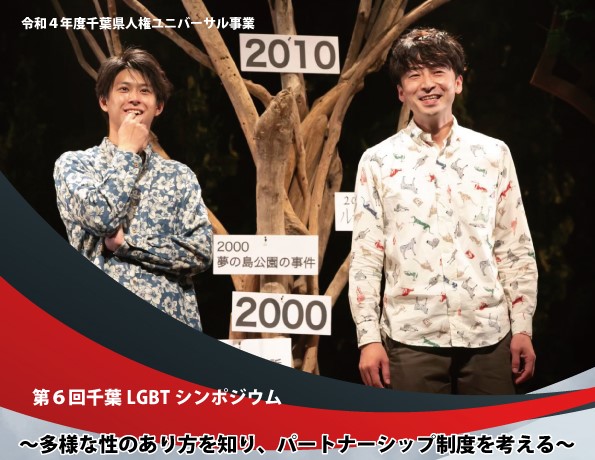 Chiba Rainbow Association holds events such as seminars, film screenings every year. We will organize a theater play screening and a panel session this year. The model persons of the theater, the person who are engaged in playwrite and director and the actors will join it.
The theater play, Sukotan!, was performed in 2021 by "serial number" that is a Japanese theater performance group. They showed how sexual minorities live, face discrimination and cope with them. The members who join the panel session will tell what they would like to describe and what they could not tell through the theater play. We hope that we can organize an opportunity to think about importance of support between people, feelings that all the people including minorities have, what partnership system can offer and what issues it has.
The detail of the event is described in the below. We look forward to seeing you on the day.
■Plot of Sukotan!
Satoru and Ryuta met in 1990. It was the time when gay people did not have tools like web service and smartphone apps. They could know each other by posting a small article on gay magazines at that time. They faced kinds of troubles in their family and themselves that may happen for everybody. Through the experience, they set up Sukotan to support gay people. The performance shows story about their 30 years activity and other eight related persons.
■Event overview
Date and time:
From 13:30 to 16:30 on 15th January 2023
* The venue will open at 13:15.
Venue:
Chiba Harmony Plaza

https://www.chp.or.jp/danjo/access/
Agenda:
Opening address
Greeting from the organizer
Message
Sukotan! screening
Panel session
Closing address
Panel session:
Satoru Ito (Model of the theater, co-representative of Sukotan)
Ryuta Yanase (Model of the theater, co-representative of Sukotan)
Roba Shimori (playwrite and director, Japan Academy Award 2022 for Best Screenplay)
Fuku Kondo (Actor)
Katsuhiro Suzuki (Actor)
Entry fee:
Free
How to join:
Please come to the venue directly. * The maximum number of participants is 200 people.
The leaflet of the event is available.