[Rescheduled date] The 5th LGBT symposium in Chiba city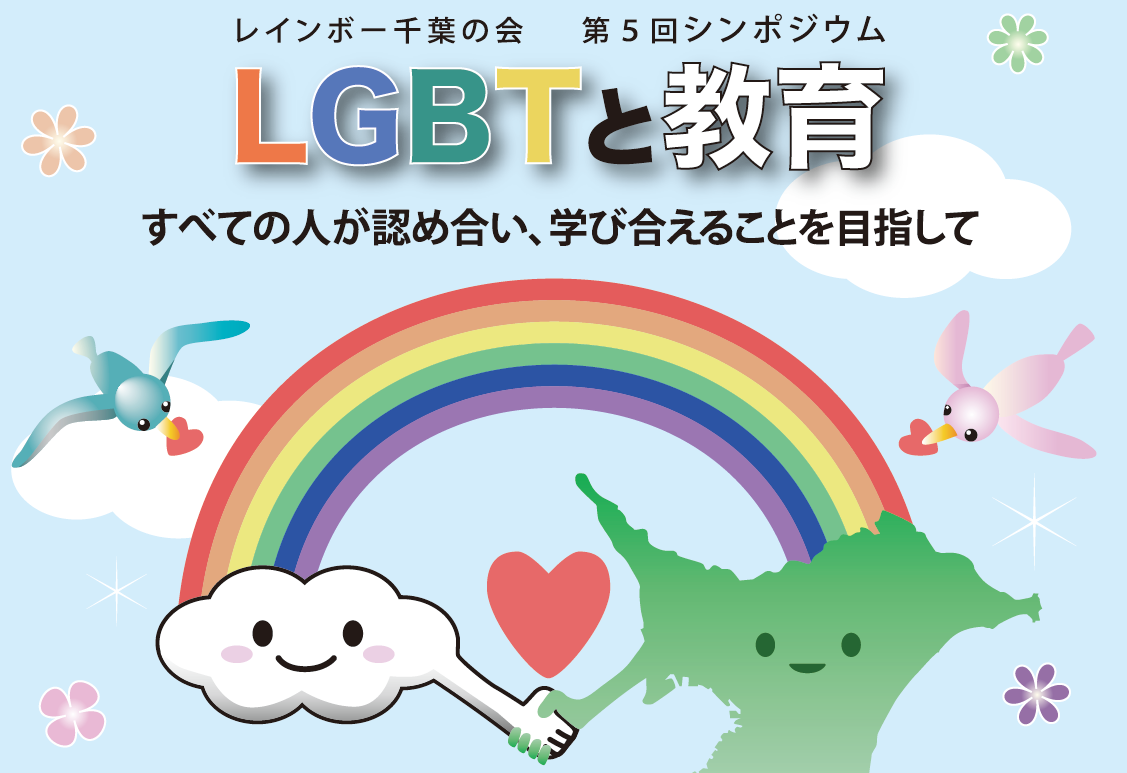 We are sorry for having kept you waiting. We postponed our symposium due to the big typhoon. Rescheduling has finished. Please confirm the below updated information. We are looking forward to seeing you at the symposium.
[Date]
From 2pm to 5 pm on 1st December 2019 (The venue will open from 1:40pm.)
[Venue]
The lecture room on third floor of Building No. 7 in Tsudanuma campus of Chiba Institute of Technology
[Access]
2-17-1 Tsudanuma, Narashino City, Chiba, 275-0016, Japan
https://www.it-chiba.ac.jp/institute/access/tsudanuma/
1 minute walk from the south gate of Tsudanuma station (JR line)
3 minute walk from Shin Tsudanuma station (Shin Keisei line)
10 minute walk from Keisei Tsudanuma station (Keisei line)
* Please take public transport service.
[Content of the symposium]
Situation of pupils who are sexual minority (15 min)
Speaker: Yoko Kataoka (Professor of education at Chiba University)
Actions taken in Kashiwa city (15 min)
Speaker: Rie Nakamitsu (Vice-principle of Kashiwa municipal primary school)
Actions to be taken in junior high school (15 min)
Speaker: Megumi Momose (Teacher of Funabashi municipal junior high school)
What is possible to do as a high school student -How NFT was made and how it works- (15 min)
Speakers: Yume Ezaki (Representative of NFT (nonprofit organization)), Tomoko Karino (A member of NFT, mother having transgender child)
What we are doing as a school uniform manufacture (15 min)
Speaker: TOMBOW Co.,Ltd
Panel discussion
<Facilitator>
Yoko Kataoka

<Panelist>
Satoru Ito (Sukotan Social Service)
Haruka Kami (Co-representative of Rainbow Chiba Association)
Rie Nakamitsu
Megumi Momose
Yume Ezaki
Tomoko Karino
A lawyer from Chiba Bar Association
[Application]
Application is not needed. Please come to the venue on the date.
[Attendance fee]
Free
[Auspices]
Chiba Prefectural Board of Education, Funabashi City, Funabashi City Board of Education, Kashiwa City Board of Education, Chiba City Board of Education, Chiba Bar Association, the group of Funabashi City Council members who work on issues related to LGBT
[Note]
Chiba Prefecture Human Rights Universal Commissioned Project (the 1st year of Reiwa era)
<Outline of symposium>
We will hold the 5th LGBT symposium in Chiba city -Education and LGBT <for environment where all the people can accept and learn each other>
The theme is school education. Situation of children who are sexual minority will be reported. After understating their current situation in school, our speakers from different position will tell you why actions in school are expected, what actions should be taken and actual case by a high school student. In the panel discussion we will deepen our opinion about issues and expectations through voices of people involved in the theme.