Parenting and School Education for Sexual Minority Children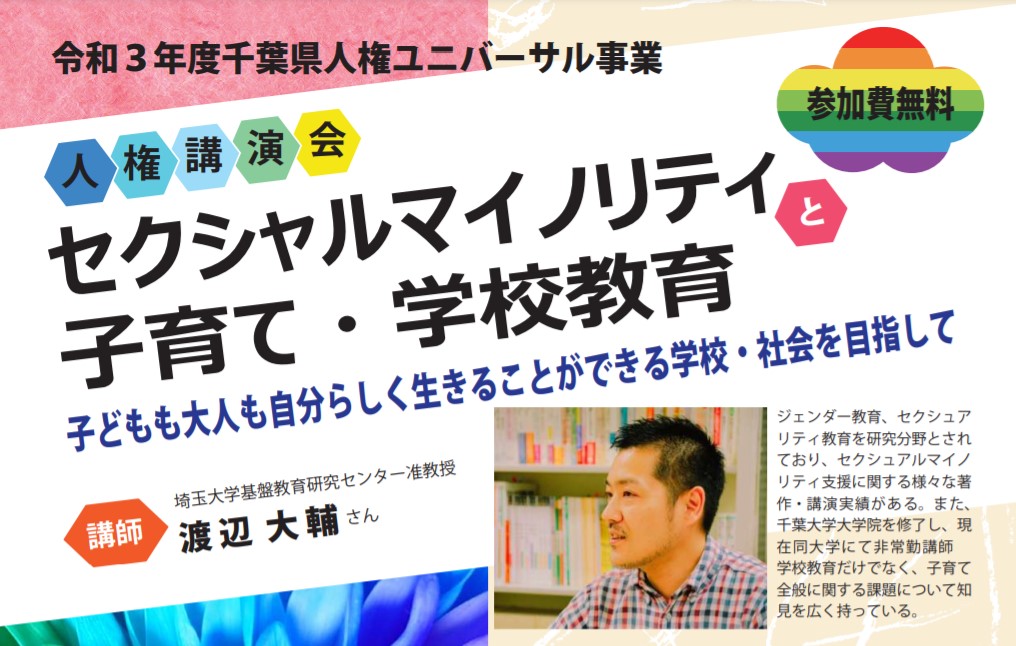 Chiba Rainbow Association organizes seminars every year. This article informs you of the seminars in FY2021.The theme is "parenting and school education for sexual minority children." We appreciate your participation.
Background of the theme
Sexual minority children are raised up by heterosexual parents generally, and it is difficult for the parents to understand precisely what difficulties their children have and how they feel about that. We do not have many schools where issues related to sexual minorities are explained within human rights, either. In Chiba prefecture, only 12.5% of the primary schools, 27.0% of the junior high schools, 26.6% of the high schools and 15.2% of the special-needs schools included such topics in their education in 2020. Considering those situation, we can say that many people still do not understand about sexual orientation and gender identity that should be cared in parenting and school education. Acceptance of various lives based on knowledge of SOGI seems still uncommon. Therefore, Chiba Rainbow Association decided to organize seminars for the theme. We will hold three seminars in different locations so that many people can attend them.
Outline of the seminars
[Theme]
Parenting and School Education for Sexual Minority Children – Achieve schools and society where all the children and the adults can live as they are-
[Instructor]
Daisuke Watanabe
[Profile]
Associate professor at Center for Research in General Education of Saitama University. His research field is education related to gender and sexuality. He published various books related to support for sexual minorities and have delivered many seminars. He is also involved in education of Chiba prefecture and teaches at Chiba university, too. He knows about general issues in parenting very much as well as education in schools.
[Participation fee]
Free
[How to participate]
Please come to the venue directly. Dates and venues are described in the below section.
[Remarks]
Our seminars in FY2021 are supported by the human rights campaign by Chiba prefecture
Information for each location
 Please refer to the below information to participate our seminars. We will record the seminar in Katori city and will make it available on YouTube later.
<Togane City>
[Date and time]
From 17:30 to 19:30 on 14.11.2021 * The reception will open at 17:20.
[Venue]
Togane City Central Public Hall
[Access]
5 mintue walk from Togane station of JR Togane line
[Map]
https://goo.gl/maps/yKiVEX6y3rBLY4mDA
<Katori City>
[Date and time]
From 14:00 – 15:30 on 12.12.2021 * The reception will open at 13:50.
[Venue]
Katori City Office
[Access]
5 minute walk from Sawara station of JR Narita line
[Map]
https://goo.gl/maps/1MzAKVuD2Kiu9MxK8
<Uchibo Area (Ichihara city, Kisarazu city, Sodegaura city, Futtsu city or Kimitsu city)>
We are still searching a proper venue in Uchibo area. The seminar will be held in January. We will post another article to let you know the details once we decide the venuw.
We look forward to meet you at the seminars.